This is really what it's like to be an editor.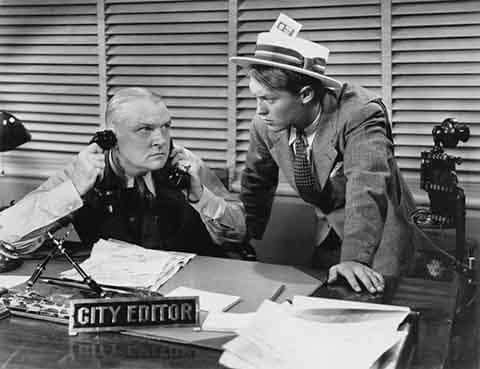 I came across this comical image while searching for a photo to illustrate our new page on editing and proofreading services. It had me laughing because it's close to the truth.
My guess is it's from some 1930s movie about a newspaper, and newspapers are organized into departments, including sports, national news, and the city desk, which is helmed by an editor responsible for that department. Back in the day, they were crazy-busy places. Newspapers were the sole source of news and the competition on the streets was intense. I'm talking about fights and sabotage.
While I'm on the subject, here are some movie recommendations featuring newspapers, and I have all of these in my video collection (over 325 movies at this point). Don't worry, they're good. I avoid sucky movies like the plague. In no particular order:
All the President's Men (Watergate story), Robert Redford and Dustin Hoffman, 1976.
The Post (Pentagon Papers story), Tom Hanks and Meryl Streep, 2017.
Spotlight (Catholic Church sexual abuse), Michael Keaton and Mark Ruffalo, 2015.
The Front Page (comedy about newspaper rivals hot on the trail of an escaped alleged murderer in Old Chicago), Walter Matthau and Jack Lemmon, 1974.
The Paper (fun story about the challenges newspaper reporters and editors face), Michael Keaton and Glenn Close, 1994.
Absence of Malice (a wholesale liquor distributor is accused by a paper of criminal activity), Paul Newman and Sally Field, 1981.
The Shipping News (a non-journalist gets a job on a tiny Canadian newspaper and breathes new life into it), Kevin Spacey and Julianne Moore, 2001.
Richard Jewell (accused of the Olympic Park bombing in 1996 by a newspaper), Paul Walter Hauser and Sam Rockwell,  2019.
Have fun with those.