TV sitcom pilot? Hire a comedy script writer here.
Funny flick? Hire a comedy screenplay writer here.
Funny speech? Hire a professional joke writer here.
By- James D. Creviston
Have you ever thought about creating something funny but then thought, "I'm not funny? I wish I knew someone who was funny that could help me complete my comedic goal." Well, there are people that can do that, and I'm one of them.
It seems that now more than ever there is a professional for everything. This includes comedy. Sure, comedians are often professional, at least if they get paid, but what about comedy writers? Is there such a thing as a sitcom pilot script writer? Or how about a comedy screenplay writer? Or even joke writers for hire? There are! And they are accessible to everyone.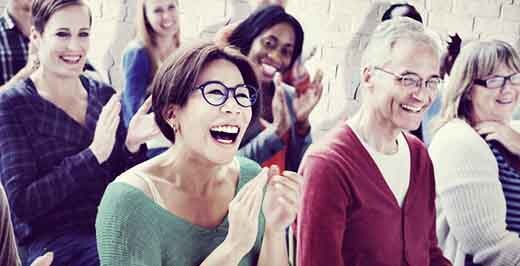 Often when people want to hire a comedy writer they want someone who will work on their comedy project for money but not take credit. This is called ghostwriting. The term ghostwriter is thrown around for novelists or memoir writers but they also exist in the comedy world. In fact, comedy ghostwriters are more common than you'd think.
Making 'em laugh
Most comedy ghostwriters are hired for speeches, blog posts, or short internet videos which end up on YouTube or TikTok. You will also find comedy writers for stand-up, and to write jokes for almost any occasion. Yes, ghostwriters are hired to write jokes for other comedians. While most comedians write their own material for stage there are some comedians who hire writers to craft jokes for them. Not every comedian that hires a writer hires a ghostwriter. However, more often than not comedy writers are hired as ghostwriters, meaning the writer gets paid for their work and the buyer owns all the jokes as if they wrote 'em themselves.
What about for film and television scripts? Well, there are writers for those, too. Often writers are hired by a client who has a movie idea and money but no idea how to write or the desire to learn how to write a screenplay. This is great for the writer and for the person with the idea as they can give the writer all the information and allow the writer to take their ideas and turn them into a screenplay. This is a win for both the writer and the creator as each gets something out of the deal.
Making the comedy script a reality
Sometimes comedy writers are hired by a producer, director, or actor who has an idea, means, and motive to get a project made. This is a great opportunity to get a workable script they can turn into the movie or project of their dreams. I have written hundreds of these types of projects and thus there are variations to take into account if you want to hire a comedy writer. So what should you be looking for if you want to hire someone?
The first thing would be samples of their work. If you are looking for a writer of any kind you should request samples in the genre or format you are interested in hiring for. If they don't have a sample specific to that format, you may ask for them to create a sample. However, this is often paid work and while you may not want to spend money it is better to spend a little up front to find out if they have the writing style you're looking for.
Second, you will want to read reviews. Any writer, especially a ghostwriter, will have reviews or feedback they can share with you. If they are new, and you are their first client, then you'll have to forgo reviews and just rely on samples. My first job as a comedy writer came because I was writing jokes on Twitter. This led to a joke-writing job. While I had never been paid to write jokes before my stand-up videos, my jokes on Twitter were enough for someone to hire me. They also had me do a short sample which I was paid for to make sure I could fit the comedian's voice. It all worked out and I wrote for them for a year and could call myself a professional joke writer!
Don't hire a non-native writer
Third, you should make sure that you and the ghostwriter can communicate. This means email, phone, Zoom, Skype or whatever you're comfortable with. I have heard horror stories from clients about hiring someone who was in another country and spoke a different language and with whom they could not communicate, and thus the project turned out poorly. As Jim Jarmusch famously said, "Fast, Cheap, and Good… pick two. If it's fast and cheap, it won't be good. If it's cheap and good, it won't be fast. If it's fast and good, it won't be cheap." This applies to ghostwriting as well. Do not let price be your limiting factor.
Finally, you want to have a budget. Any ghostwriter worth their salt will have standard rates for their work. Many are willing to be flexible but you can't expect amazing work for around minimum wage. Our rates can be found on our ghostwriting rates page. Then pick your number. Remember that cheaper usually won't be good and expensive takes time but if you can be flexible with both you can usually end up with a great ghostwriter who will take your project to the next level.
Now that you know what comedy ghostwriters do and what to expect you can make informed choices when hiring one for your next speech, book, TV pilot, or feature screenplay. Not every comedy writer can work on all these projects but there is always someone who can fill the need.
Who you gonna call?
By now you are wondering where you can find such writers. Well, this is a little harder. Good comedians are not always great writers and good comedy writers are not always stand-up comedians. So what is one to do?
In my experience, working with established comedy writers is the best way to ensure accountability. As a professional comedian and comedy writer, I have worked with various kinds of clients and worked on everything from one-line slogans and jokes to full books and screenplays. In fact, the first money I ever made as a comedian was writing jokes for a famous comedian!
Since then, I have worked on a Facebook Watch series with well over five million views, several commercials, TV pilots, and even some feature films, one of which has my name as a co-writer. I have worked hard enough that when I am not performing stand-up comedy, teaching stand-up comedy, or relaxing with my family, I am making my living as a professional comedy writer. I take pride in my work and take pride in making every one of my client's comedic visions come to life on the page.
Get proof
If you are ever worried about the veracity of claims made by a writer, they should be able to offer samples either directly or online. Before you pay a dollar you need to review the quality of their work and skills. So the next time you want to add some humor to your life, contact a comedy ghostwriter and let them make you funnier. It is worth every dollar once you get your first laugh. Trust me, I've heard that exact line from my own clients.
You can find me at Ghostwriters Central as I write not only comedy but also military and horror.  I have done a wide variety of projects for highly-satisfied clients.  Contact me now.  You will be so glad you did!