The playwright, the musical, the libretto, the opera, and beyond.
By- Thomas Cleveland Lane
Edited by- Michael McKown

I used to be a guy who mostly wrote short stories, during the course of which, nobody had occasion to break into song. I also used to be a song and dance man in the local community theatre scene. It took me a while before the idea of combining both interests struck me.
I have since written three operettas, a Hamilton-style hip-hop musical, a children's musical and, the oddest of all creatures, a one-act musical comedy. When I say I have written them, I mean the lyrics, the dialogue and the stage directions. Like almost all people who do this sort of thing, I need a composing partner to complete the work, just as Hammerstein needed his Rodgers or Ebb his Kander. That is an important detail to note: it usually takes two.
But writing lyrics is not an art that is confined to the opera or the musical. Maybe you are looking to write a single hit song or even a jingle for a product. Yes, many of them are inane at best or annoying at worst, but some were quite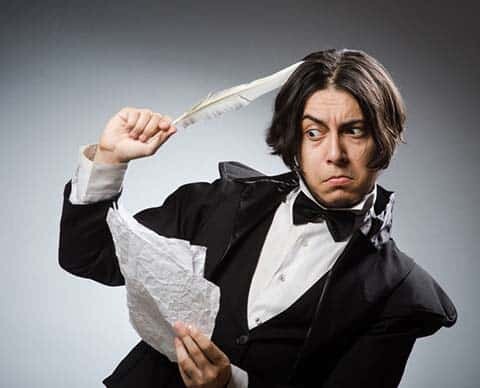 effective, like I'd Like to Buy the World a Coke or Welcome to Miller Time. It's all creative writing of the most disciplined sort.
When you are writing a given piece, whether it is an aria, a song or a jingle, you are under constraints that the novelist or the storyteller does not have to worry about. You must be able to make your point, such as the pros and cons of The Flowers that Bloom in the Spring, with, not only wit, but rhyme and meter.
Please note that among the aforementioned necessities, I mentioned wit. Rhyme and meter without wit is simply doggerel. If you create and inflict it upon others, you will be a p—t of sorts: not a poet, but a pest.
Getting back to that single piece as a starting point, once you have found something witty to say, you ought to make it rhyme and you absolutely need to make it scan. A bad rhyme can be overlooked, such as "Fill fruit jar, pick guitar and be gay-o, son of a gun, have big fun on the bayou." Bad scansion, though is an affront to the ear.
Many years ago, the very talented group, Peter, Paul and Mary, came up with a children's song, Puff the Magic Dragon. We've all heard it, more than once, I'm guessing, and most of us have enjoyed it, whether we were children or not.
The two main characters in the song are a little boy named Jackie Paper and his imaginary dragon, Puff. That was easy enough to understand. Toward the end of the song the lyrics were, "A dragon lives forever, but not so little boys." That is the most important line of the song, because it foreshadows the sad ending. It was effective, artistic and fully in keeping with the melody. Then at some point, PP&M decided it was a bad line because it left out little girls, even though, up to that point, they had been singing about one individual boy. As a result, they changed the line to "A dragon lives forever, but not so little girls and boys." They gave up the tight discipline of an excellent song's meter to tell their listeners, "See how correct we are? Please don't hate us!" Phooey. If you are going to write for the stage, political correctitude has no place in your process.
Mind you, I am not saying it would be fun to write a paean to the KKK, but, if you have a Klansman in your show, presumably as an antagonist, don't muzzle him.
There is always the detail of subject matter to consider. If you are looking to put your name to a free-standing song, it can be about anything you want it to. If you were to write a musical, say, about the struggle for dignity in a pajama factory, at least some of your songs will need to touch on the subject of PJs. It is all well and good to write a universal song of love and longing like Hey There, but, you will also need to throw in numbers like Racing with the Clock. and Seven and a Half Cents, if you are going to stay true to the thread of the story. If the story itself is your story, then, obviously, you will have more of a say-so. If the story is one that has already been told, you are somewhat more constrained, but that is not necessarily a bad thing. In many cases, constraint = focus.
Two of my operettas have been based on Edgar Allen Poe stories and one on a lesser-known Grimm Brothers fable. They were all a joy to write. That said, the process was not always an easy one. During the many times I found myself stuck for a rhyme or a properly scanned line, I would feel like the stupidest man on the planet, until I managed to figure the situation out.
Broadening our focus a bit, let me say a word about the mechanics of writing (and reading) a full musical or opera for the stage. Spoken dialogue appears as it does in this essay. Stage directions are in italics to differentiate them from the dialogue. As to lyrics, they are in all caps. The characters are not shouting at each other, they are singing. It should go without saying that the lyrics in your treatment need to be congruent to the lyrics on the score. Not a lot of rules to learn, but a lot of fonts to change. Do not imagine you are going to bat out a two-act show with the snap of the fingers, no matter how gifted you may be.
One other note about opera: it does not have to be what we consider classical music. Porgy and Bess is an excellent jazz opera, while Tommy, The Wall and Evita are brilliant rock operas. The music should be emotive, but, beyond that, you and your composer are as free as the breeze.
If you think you have in in you to write lyrics or libretti, then, have at it, and the best of luck to you. Along the lines of what performers tell each other, break a quill!
On the other hand, if you are someone who would like to produce and put your name to an original musical production, or, if you yourself are a prolific composer, looking for a vehicle for your powerful music, here is where we come in. Give us the subject matter and, if it is a thing our playwright can wrap his or her mind around (as most things are), we can write you a top-notch musical production, not in the sweet bye-and-bye, but toot sweet.