Custom wedding speech writing services:



Father of the bride speeches ● Mother of the groom speeches




Bridesmaid speeches ● Mother of the bride speeches




Best man speeches ● Toasts ● Any and all wedding speeches!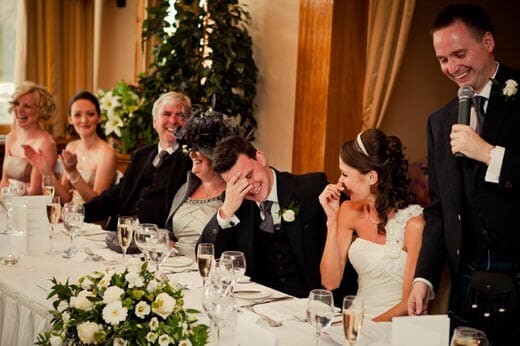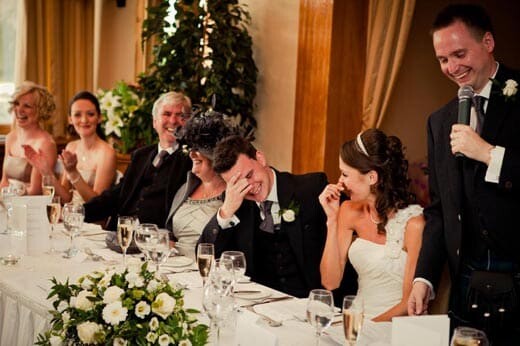 RUSH SERVICE IS AVAILABLE!
Wedding speeches are typically three minutes long. Our normal fee for original writing is $50 per double-spaced page. The RUSH rate is $100 per page. For most, it takes about one minute to orally deliver one double-spaced page, so the RUSH rate works out to about $100 per minute. For three minutes, three pages, $300. For non-rush with a two-week turnaround, $150. Wedding speeches are delivered in time for you to practice. Each speech is custom crafted to meet client needs.

The process of wedding speech writing
Let us remove the worry of writing your wedding speech. We have greatly simplified the process of writing a custom, personalized speech and have relieved many headaches as a result. We will put your thoughts, feelings and emotion into words guaranteed to powerfully communicate.
When you contact us, we will take down your information then our exceptionally skilled writer will send you a questionnaire to fill out and the speech will be custom crafted from there, to meet your requirements. We'll make sure it's easy to deliver and memorable.
Normal turnaround time is about two weeks, but we have been called upon to rescue wedding speakers at the last minute — sometimes late at night before the wedding day. If you need it before our usual turnaround period, a rush rate will apply. The longer you wait, however, the greater the odds are that you waited too long. Last-minute speechwriting requires the availability of the writer at a possibly inopportune time. Feel free to contact us for rush work; with any luck, we will be able to accommodate your needs.

What sort of wedding speeches are we talking about?
Father of the bride

Father of the groom

Bridesmaid

Mother of the bride

Mother of the groom

Groom and/or bride

Wedding toasts

…Anything else that you may require.
Typically, marriage speeches and wedding toasts are three minutes long, but we can make yours as long or short as you wish.
Our pricing for wedding speech writing can be found on our ghostwriting rates page.

Here's what two happy wedding speech clients had to say about our work: 
"The speech went great. I was nervous the first couple sentences then it went great, just like you said. The shotgun incident was one of the best parts. I received a lot of compliments, the photographer said it was one of the best speeches that he has ever heard and he's been to hundreds of weddings. One of my greatest fears was speaking in front of a group. I feel a lot more confident now. Thank you very much for your help."
"You guys rock!!! I love that speech/rap and find the whole concept hysterical! Now I have to be strong and work up the nerve to deliver it well. Since you did such a fabulous job, I'll be calling on your assistance for another wedding I have in the near future. Thanks for all your hard work! You saved me loads of time."