Webtext writing, brand building
& custom website content development.
By- Michael McKown
Let's say you open a store on a street with lots of foot traffic. You stock the merchandise, hang a sign outside but put nothing in the window to grab the attention of passersby. That's a violation of every business marketing principal and it's self destructive. You'll be ignored and you'll starve. What rides to your rescue is webtext writing (web site content development). We provide custom branding and original articles for your website.

How about we not make you a failure to be studied in college business classes, alongside "New Coke"?
The empty storefront window
An empty webpage is just like a that empty window. That blank webpage is pure potential. It's an opportunity to convince a site visitor to become engaged and to do…something. What is the purpose of your website? What are you selling? A webpage without compelling and informative content is nothing more than a missed opportunity.
According to Kjell Nordström and Jonas Ridderstråle, in their book "Funky Business Forever," we're living in a surplus society:
"The 'surplus society' has a surplus of similar companies, employing similar people, with similar educational backgrounds, coming up with similar ideas, producing similar things, with similar prices and similar quality," they wrote.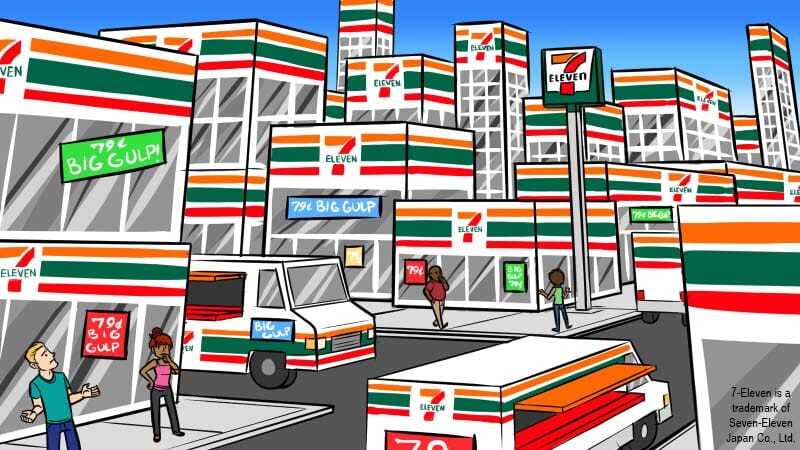 My version of the same thing is:
On the Internet, every business is equally distant and there are thousands, just like yours. It's like having 10,000 7-Elevens on the same intersection. Your challenge is to give them a reason to come into your store for a Slurpee and a Quarter-Pound Big Bite hot dog. It's the fundamental business problem everyone faces.
You've only got seconds to make an impression
Studies indicate you've only got seconds to grab the attention of a prospective customer or client; your web text needs to convince visitors that:
You've got the product or provide the service they need.

You're an honorable, trustworthy business person or brand.

You will deliver the product or service reliably, efficiently and at a fair cost.
A quality presentation of your business gives your site visitor motivation to stay on your site and learn more. There are other factors here as well. One of the metrics used by the Google search engine to determine search results ranking is the amount of time a visitor spends on your website. The longer you hold their attention (with everything else being equal — don't you just love hypotheticals?), the higher your website will rank, and that directly converts into customer queries.
Be interesting. Stand out from the crowd. Don't imitate every other website in your category; that's a guaranteed way to be bland and invisible. Speaking of bland and invisible, what's more bland than real-estate related websites? Realtors and appraisers are approached by specialty web design companies; they get sold on a boilerplate website, stuffed with boilerplate articles, and when the client examines the site, they are impressed! But usually, those websites are pure crap. Google largely ignores them because the content is identical to that found elsewhere (because it's boilerplate; the only thing that distinguishes one site from thousands of others is the name and photo.
Turning bland into compelling: A case study
I was a partner in a real estate appraisal business based in Los Angeles. I photographed the appraiser at work, measuring and inspecting buildings, shooting photos and writing reports. I wrote a lot of unique articles for the site and I interviewed my partner then published those interviews on the site. It quickly ranked first in the crowded LA-area market. The appraiser, who was relatively new to the profession at the time, was so busy he ended up hiring guys who had been in the business for 20 years to help him.
It was the unique content that helped the website outrank competitors who had been in business for decades, and it was the counterprogramming (revealing the knowledge and character of the appraiser) that sold clients on doing business with him, as opposed to some competitor whose sum total of personality was a photo and a name.
I turned that appraiser into a brand; I provided the site visitor with an overabundance of information, as much as they cared to read, including things that had never been seen on a website of this kind, such as comical moments in the life of an appraiser: Dogs, pet snakes, inspecting the wrong house due to being provided the wrong address, and the husband who invited him in to do the work, forgetting that his wife was upstairs taking a shower (and she didn't know an appraiser was coming by).
My goal with that appraiser was to make him human, to let his personality, integrity and warmth come through, to make prospective clients realize that he knows his stuff, and to create an emotional response. I made him memorable, and that set him apart from the thousands of other appraisers in the LA market. Compelling content!
Selling yourself and your business
The homepage must introduce yourself or your business, it must effectively communicate the purpose of your website and its value proposition — the reason someone should come into your store (or peruse your website). It must be inviting and welcoming, and must convince visitors to learn more about your products or services.
The interior pages sell specific products or services. Those descriptions should be comprehensive, informative and interesting. Don't imitate what your competitors are doing. Have the courage to distinguish yourself from everyone else
Your competitors are always vulnerable in some way. Competitors tend to present themselves in similar ways, which gives you the opportunity to stand apart. All that's left to do is to figure out how. Think about hiring a ghostwriting service that can raise your visibility and help you stand apart from the crowd. If we can do that for a real estate appraiser, we can surely do the same for you.
How do we help you? Simple! You provide us with the raw information and we'll take care of the writing. Or, if you want, we can interview you by phone or by Skype until we have the information we need. You can find our rates for original writing on our ghostwriting rates page. Interviewing qualifies as research and is billed at research rates.
[vcex_icon_box style="two" heading="EXPERTISE" heading_type="h2″ icon="fas fa-tools" icon_color="#00bcc9″ icon_size="60″]
Experienced pro writers available on a wide variety of subjects for books, screenplays, speeches, etc.
[/vcex_icon_box]
[vcex_icon_box style="two" heading="PAY PAL" heading_type="h2″ icon="fa fa-cc-paypal" icon_color="#00bcc9″ icon_size="60″]
We also accept payment via PayPal. In the case of large projects, we can work out payment plans,
[/vcex_icon_box]
[vcex_icon_box style="two" heading="WORLDWIDE SERVICE" heading_type="h2″ icon="fa fa-arrows" icon_color="#00bcc9″ icon_size="60″]
Headquartered in the Los Angeles, CA, area but helping clients everywhere with the best possible service.
[/vcex_icon_box]
[vcex_icon_box style="two" heading="" icon="" image="2855″ image_width="166″ image_height="166″ css=".vc_custom_1514071684797{padding-top: 26px !important;}"][/vcex_icon_box]