What does it cost to hire a ghostwriter?
By- Michael McKown
What does it cost to hire a ghostwriter? You could be in for sticker shock. Bottom line, to write a book manuscript or a screenplay, you're engaging a ghostwriter for a period of months. A professional writer will probably charge more for their time than would an amateur who writes during their spare time.
To get right to the cost, for us, you'll find that info on our ghostwriting rates page. At the time this article was written, the base fee for ghostwriting a manuscript is USD $60 per double-spaced manuscript page. If the target length is, for example, 200 such pages, you're looking at a writing fee of $12,000.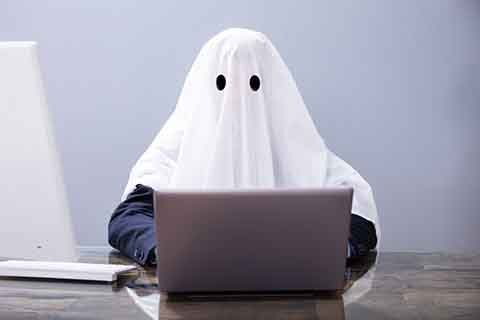 The base fee for ghostwriting a screenplay is the same amount per page, although the formatting is entirely different. Also, screenplays are typically shorter than books. A rule of thumb is: One script page works out to about one minute of screen time, so a two-hour movie will generally be 120 screenplay pages at USD $60 per, for $7,200.
Pricing for hiring a ghostwriter ranges from extremely expensive to dirt cheap. We are a mid-priced service. Writers upon whom fortune has smiled (e.g., they made the best-seller list) will capitalize on the bragging right so conferred and will command a higher price. If you're seeking a best-selling author to ghostwrite your book, expect that sticker shock.
It's the same with screenwriters who have written hit movies, or upon whom producers depend for original scripts, adaptations from books, and/or rewrites and script doctoring. The fee for whatever time they have to spend on your project will be immense.
But here's the thing. With very few exceptions (think celebrity memoirs, high-profile politicians, well-known novelists, or Oprah's Book Club nominees), there is absolutely no way to predict which book will become a best seller, or which screenplay will become a hit movie. That a writer has achieved literary or cinematic notoriety is no guarantee the work you hire them to do for you will be at all successful.
So why are you seeking to pay a premium price?
The fact is, there are thousands of writers in the USA, and many of them are superbly qualified to write your book or movie. Qualified writers charge a fair price for their work. If you wish to hire a ghostwriter for a book or film project, you will be tying up that writer's time for months. Expect to have to pay for it.
Some questions and some answers
Q: Can we partner with you so that you get paid a percentage of the sale when the book is released?
A: No. I cannot ask a writer to work for months in hopes that your book will sell at some point down the line. That writer needs to put food on the table. I have to pay them, so you have to pay me.
Q: Where can I find a cheap writer?
A: Not here. You can put an ad on Craigslist (Gigs > Writers) or maybe on one of those sites that offer a large number of writers eager for your business, each trying to undercut the others. I suggest you exercise caution and get references.
Q: How do you find your writers?
A: This business was founded in 2002, so I hear from a lot of writers. Some find us because a fellow writer recommended us. A major consideration is the quality of the work. I want to see what they've done. Do they have command of the English language? Can they deliver grammatically correct work, on deadline? Can they collaborate with the client? I reject far more writers than I accept.
Q: Are you an expert on this industry or genre?
A: It's unlikely that you will find a writer who has intimate familiarity with your topic, however you can expect to find a writer with sufficient familiarity with your, or a related, topic. Examples: Memoir writing, technical writing, religious topics, and medical topics.
Q: What if I'm not satisfied with your work?
A: I find writers who have the necessary writing and collaborative skills. You will be approving the work in stages as it progresses. This assures the work gets completed in the manner you want. The contract does allow for some revisions following completion, but a revision is not a rewrite.
Q: What is the turnaround time?
A: We specify that in the contract. Sixteen weeks is common.
Q: Can you write my 300-page book manuscript in three weeks?
A: Been there, done that. And the price doubles for rush projects.
Q: What about a payment plan?
A: For large projects, such as manuscripts and screenplays, we can work out a payment plan. Let's assume your book project has been quoted at $13,000. We can break the fee into four approximately equal payments. The down payment is $3,250. The final payment is due before delivery of the final draft. And the two other payments occur at specific points in between. A contract is required.
Q: Will I need to hire an editor when the project is done?
A: The writing includes editing.
Q: I have an idea for a movie, but it's still all in my head.
A: We can interview you in person (if possible), by phone, Zoom or Skype for as long as necessary to obtain all the information we require. We do charge an hourly fee for interview, research, reading, organizing and any travel time.
Q: What does it cost to speak with a writer?
A: Your first consultation with the writer is free. During this consultation, you and the writer will discuss your project in detail, work out the procedure, and agree upon payment terms. If you wish to proceed with us, the writer will inform me and I will draw up the contract and send it over for approval. However, I will ascertain whether you are ready to move forward, and whether you can afford to pay for the work, before I hand you off to the writer.
Q: Will you sign a non-disclosure agreement?
A: Absolutely.
Q: How do I pay?
A: Billing is by PayPal. If you pay using that service, a small surcharge will be added to offset their processing fees. You can also pay by bank check or money order, direct deposit into our business bank account, bank transfer or Zelle (this is a free way to instantly move cash between accounts or banks. Login into your bank; they probably offer this service.)
Q: Once you're finished with my book or screenplay, who owns the work?
A: You do.
Q: Do I have to credit the writer?
A: Only if you want to.
Q: Will my work end up in somebody's portfolio?
A: That's prohibited in the non-disclosure agreement.
Q: What's the next step after your work is done?
A: If it's a book manuscript and you're seeking a traditional publisher, we recommend you do a search for a literary agent. These people can save you a lot of time and effort. They know who publishes what and they have existing relationships with publishers. And publishers like agents because they bring them quality work. Agents take a percentage of whatever deal they get you. If it's a screenplay, you must use an agent. Nobody in the film business will talk with you without one for legal reasons.
Q: The work exceeded my expectations. Can I offer the writer a gratuity?
A: You will find that option on the PayPal invoice.
Q: I can't think of anything else to ask.
A: How about if I ask if you'd do something for us? If you like or love our work, tell me or the writer in an email. We may publish it on our Client Comments page, but we won't reveal your name.
If our cost to hire a ghostwriter is acceptable and you'd like to get started, you can find multiple ways to reach us on our contact a ghostwriter page.