Forget the mirror. The best way to practice delivering
your speech is one-on-one coaching using live video.

Father of the bride • Mother of the groom • Best man • Maid of honor • Other wedding speeches
Sales • Keynote • CEO addresses • Motivational • Introductory • Graduation • Public relations


Informative • Crisis management • Retirement • Political • Entertaining • Roast & toasts

By- Michael McKown
What do you get when you Google for: how to practice a speech? You get advice. You get tips. What you don't get is someone to help you one-on-one on with delivering your speech.

You can practice your speech in front of a mirror. Or your family. Or grab somebody at work. (Here's a clue: Some things have changed since 1960.) You can watch how-to videos on giving a speech. Or you can install Zoom on your computer and speak live to a speechwriter who will coach you on your delivery, technique, stance and attitude!
Perfect your speech and delivery live in a one-on-one video session with an expert and save a ton of time and hassle.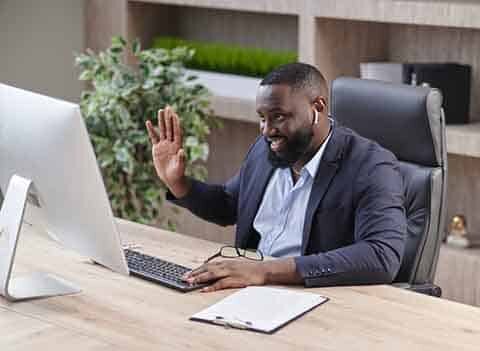 You may be wondering where this idea came from. We write a lot of wedding speeches. One fellow ordered up a custom father of the bride speech in August, 2022, then wondered if he could engage us to coach him to deliver it flawlessly. Suddenly the realization dawned. Of course we can help, I told him. What tech is necessary to do this over the Internet? Live video using a phone, or Zoom, or Skype, or other live video using social media. Is anybody else offering live video assistance? No, it turns out. Apparently the closest approximation is recording yourself and dispatching the video to someone for advice.
One might conclude this absence of one-on-one live help is just another example of people not all that interested in engaging with you directly. Example from everyone's life: "Your call is very important to us. Please stay on the line for the next-available agent. Your estimated wait time is 35 minutes." And you're thinking, If my call is so very important to you, why don't you just answer the phone? Or hire more agents? It's called avoidance. I concluded long ago that companies would really not prefer to engage with customers directly. Maybe they think customers are icky. Or too time consuming and therefore expensive to deal with.
But shipping off your video to be critiqued is awkward, time consuming, and is miles away from immediate feedback. And so we're breaking the mold.

What kind of speeches?
Really, anything. Examples:
Father of the bride speeches.

Sales speeches.

Keynote speeches.

Motivational speeches.

Introductory speeches.

Graduation speeches.

Public relations speeches.

Crisis PR responses.

Political speeches.

Toasts.

And many more!
If the idea of public speaking makes you nervous or induces near panic, the end result of the coaching session is you will be far more relaxed and confident. And nobody will know that you sought our assistance.
The help and feedback you get with live coaching is going to stick in your memory far better than a webpage full of advice on how to deliver a speech. Same with instructional videos. Neither can give you instant, helpful feedback, and give you a hearty "well done" when you knock it out of the park in your video session.
And if you need help writing your speech, we can do that, too.
Next step: Click on contact.