Our ghostwriter can interview you
to get the raw info we need.
So you don't want to write out the notes for your book or screenplay, or even record them. Not to worry, the ghostwriter can interview you to get everything he or she needs. Call Ghostwriters Central toll-free at 888-743-9939 10am to 6pm Pacific Time. Or send us a text message at 818-636-4173, we will answer right away. Then you spend a little time being interviewed, then you can kick back and let us do all the heavy lifting!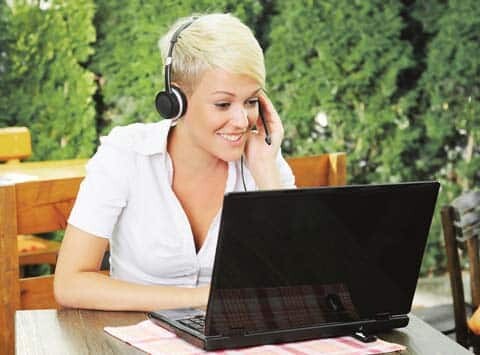 If the content for your book or screenplay doesn't yet exist in the form of fixed notes (i.e., on paper and/or in digital form), don't let that stop you from making contact with us. This just means you are a prime candidate for our interview process.
By way of Skype, telephone or in-person meetings, we will conduct a conversation with you, and record every word that is said. The conversation will be relaxed and informal, and not necessarily adhere to a rigid structure (unless that's what you request beforehand, perhaps following an outline or a specific plan).
During the interviews, we'll throw questions at you in a spontaneous fashion, requesting more details and/or clarification if and when a need arises. You needn't put pressure on yourself in terms of supplying every single finite detail — the important thing is that you tell your story, be it fiction or nonfiction, in as clear, honest, and emotionally accessible a form as possible.
After each discussion (there are usually six or so throughout the life of a project, though we've done this in as few as two and as many as 30, depending on how the client communicates and the nature of the project), we will transcribe the recorded discussion via our word processing software, then use the resulting transcription to carry out the ghostwriting.
Sometimes clients record on their own, absent the ghostwriter asking questions. This option has resulted in some excellent projects, though oftentimes the ghostwriter's involvement can guide the storytelling in a more compelling and focused direction. It really depends on the nature of the client. Some clients are simply able to convey more on their own; you alone can make this determination.
We're often asked about the option of recorders that automatically transcribe the data being recorded. To date (2018), we've yet to encounter a recorder that emulates an actual human touch. When physically transcribing a recording, the ghostwriter is able to make judgments in terms of emphasis and structure that a machine (as yet) cannot.
Over the years, we've seen many clients enjoy and even relish the interview process. It supplies an element of ease and weightlessness to your project's creation. You needn't strain to generate written notes if it's not in your personality; you merely have to show up and speak. Moreover, we're not judgmental or biased; we're here to listen, and support your vision.
It's your story. The key is to get it out and get it down — in as powerful a form as possible.
[vcex_icon_box style="two" heading="EXPERTISE" heading_type="h2″ icon="fas fa-tools" icon_color="#00bcc9″ icon_size="60″]
Experienced pro writers available on a wide variety of subjects for books, screenplays, speeches, etc.
[/vcex_icon_box]
[vcex_icon_box style="two" heading="PAY PAL" heading_type="h2″ icon="fa fa-cc-paypal" icon_color="#00bcc9″ icon_size="60″]
We also accept payment via PayPal. In the case of large projects, we can work out payment plans,
[/vcex_icon_box]
[vcex_icon_box style="two" heading="WORLDWIDE SERVICE" heading_type="h2″ icon="fa fa-arrows" icon_color="#00bcc9″ icon_size="60″]
Headquartered in the Los Angeles, CA, area but helping clients everywhere with the best possible service.
[/vcex_icon_box]
[vcex_icon_box style="two" heading="" icon="" image="2855″ image_width="166″ image_height="166″ css=".vc_custom_1514071684797{padding-top: 26px !important;}"][/vcex_icon_box]