Custom wedding vow writing services:
Let us craft perfect marriage vows for you!
Praise was heaped upon us by the Wall Street Journal and Consumers Digest about our custom vows writing service. We will deliver the same quality for your marriage!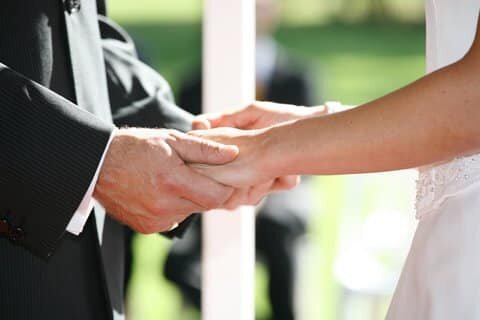 What's the best wedding vows writing service in the world?

Ghostwriters Central! Okay, fine, there's no way to measure the "best." But we've gotten high marks for our marriage vows from The Wall Street Journal and Consumer's Digest…so let's just say we're not too shabby at it.
What makes wedding vows good?

We could say a lot of things here, but we'll leave them all aside to say this: If your bride or groom is not bawling his or her eyes out by AT LEAST the middle of the vows, then those things belong at the bottom of the garbage pail, not in your hands during the most important day of your life (thus far).
What makes marriage vows less than good?

Get up there and make a string of half-promises. Go ahead, try it. Interested in being unfaithful? Then imply that in the vows. Not sure if the whole "in sickness" part is very appealing? Then stand in front of everybody and say, "In [mumble] and in health." Not only will your spouse NOT be doing any crying, but you may even find yourself getting punched in the face!
No, seriously: What makes vows not so good?

Okay, fine, seriously: This Is A Big Moment. You're telling the love of your life what you promise to do for him or her. So go for Big Promises. The whole enchilada. You start leaning on cutesy, minor stuff, then half the guests will leave — and your bride or groom will probably be one of them! (Wow, that didn't sound very serious, did it?!)
How much do your elegant major life promises — umm, marriage vows — cost?

See our ghostwriting rates page for pricing.

Rush service is available for those who need their vows written in less than two weeks. We can probably write them up until the very last minute but the rush rate will apply.

Info we require for wedding vows
What is your first and last name?

What is your fiance/e's first and last name?

What are five words you would use to describe him/her?

How long have you been together?

Are there any specific thoughts, memories, quotes, or sentiments you would like to incorporate in your vows?

What is the date of your wedding?
The first step is to contact us. We will take down your information then have our exceptionally skilled writer call, email or text you. She will send you a questionnaire then will custom craft your marriage vows using your answers as guidance. She will then present them to you for your approval.
[vcex_icon_box style="two" heading="EXPERTISE" heading_type="h2″ icon="pencil" icon_color="#00bcc9″ icon_size="60″]
Experienced pro writers available on a wide variety of subjects for books, screenplays, speeches, etc.
[/vcex_icon_box]
[vcex_icon_box style="two" heading="PAY PAL" heading_type="h2″ icon="fa fa-cc-paypal" icon_color="#00bcc9″ icon_size="60″]
We also accept payment via PayPal. In the case of large projects, we can work out payment plans,
[/vcex_icon_box]
[vcex_icon_box style="two" heading="WORLDWIDE SERVICE" heading_type="h2″ icon="fa fa-arrows" icon_color="#00bcc9″ icon_size="60″]
Headquartered in the Los Angeles, CA, area but helping clients everywhere with the best possible service.
[/vcex_icon_box]
[vcex_icon_box style="two" heading="" icon="" image="2855″ image_width="166″ image_height="166″ css=".vc_custom_1514071684797{padding-top: 26px !important;}"][/vcex_icon_box]