Contact a ghostwriter here! Just call, text, email or use the contact form. Easy!
You are invited to explore our array of ghostwriting services, skilled writers, articles, client comments & our blog.
Feel free to contact us with any questions. We will be happy to talk with you.


Ghostwriters Central, Inc.

Michael McKown, President

If you like us, like our Facebook page, too!
E-mail us today (preferred means of contact):

888-743-9939 toll free
818-433-4050 local
Text: 818-636-4173 24/7
(Preferred means of contact)
Fax: 661-206-7381 24/7

10am-6pm USA West Coast Time
Los Angeles area, California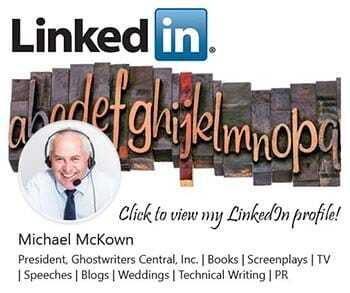 Contact a ghostwriter now