How I won a typewriter. While in middle school. In 1958.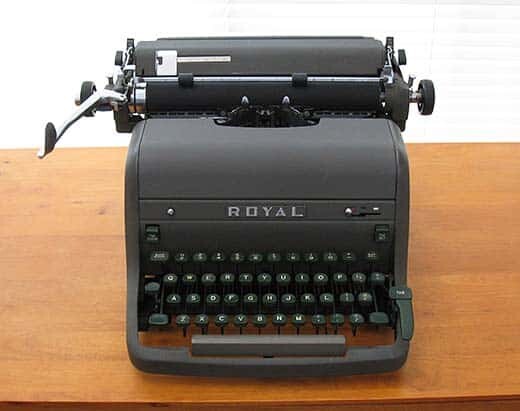 By- Michael McKown, partner
Ghostwriters Central
This photo is of a typewriter I have on display in my house. It's a Royal, model HH, manufactured between 1953 and 1955. It works beautifully, except that the carriage return bell doesn't ding. I bought it several years ago from a gentleman by the name of Dan Puls of Florissant, MO. He reconditions old typewriters and sells them. I think the price was $350. Don't ask what it cost me to have it shipped to California. It is heavy!
Mr. Puls has a website on which he offers these mechanical gems (or monsters, depending on your opinion). If you'd like to see his inventory, just click here to view his typewriters for sale.

Do I use it? No, although I certainly could. I bought it to honor the written word, which has been very good to me. I learned to type on one like that back in junior high school, circa 1958. There were others I used but I really liked the Royal HH. The school was Washington Irving Junior High (now Middle) School in LA. Much to my amazement, the place looks very much like it did back in the day, only now there's concertina wire on top of the fences.
Did you know actor Tom Hanks has a typewriter collection?
Even as a kid, I loved to write. A typewriter would certainly come in handy for school work. I asked my parents to buy one. They said no. Noting my disappointment, dad said he would buy me a typewriter if I could hit 40 words per minute. So, I entered typing class. And I struggled. Mom told me to work on accuracy, that speed would follow. I don't recall how many errors we were allowed but I do remember we were penalized for too many.
Other boys my age were absorbed with cars or surfing, or both. Me? Pounding on an unforgiving metal behemoth. These things didn't correct typos. We had weekly typing speed tests and I slowly improved.
Then, one Friday, I got ready for the weekly test. Teacher handed out a mimeographed (Google it) page that we were to copy. She said "Start" and the sound of mechanical clattering filled the room. I felt more relaxed than I'd been in previous tests. I seemed to fly along. Then teacher said "Stop" and we did. We tallied up the words. My score: 42!
Woohoo!
I took the test home and showed mom and dad. Pop scowled at the page. What, wasn't he proud of me? Later I realized he was likely thinking, "Great, now I have to buy him a damn typewriter." What do kids know about money and budgets, right? We went shopping and they got me a nice portable from Sears.
I've not been without a means of typing since. I can roar along at near supersonic speeds these days.
That's the end of that little tale, but here's one final note: I hate math. I barely survived high school algebra. Those of you who talk with me about the cost of writing a book or a screenplay might hear me joke about my needing to use a calculator. "I have no skill at math," I've said many times. "I still think 2+2=5." My parents were well aware of my stunning incompetence with numbers.
In high school, I actually got a B in math one semester. To this day, I have no idea how I did that.
Recently, my 92-year-old mother said that some administrator at the junior high school told her they needed me to get started in engineering or science. I'm paraphrasing here, but she told me they said, "The Russians have launched the first satellite into space (Sputnik, Google it) and we need everybody to focus on the necessary skills to catch up." Mom objected; she pointed out my math limitations and said that engineering and sciences were out, then added: "But won't you need someone to write the instruction manuals?" The administrator dropped the subject.
Thanks, mom. You rock!
[vcex_icon_box style="two" heading="EXPERTISE" heading_type="h2″ icon="fas fa-tools" icon_color="#00bcc9″ icon_size="60″]
Experienced pro writers available on a wide variety of subjects for books, screenplays, speeches, etc.
[/vcex_icon_box]
[vcex_icon_box style="two" heading="PAY PAL" heading_type="h2″ icon="fa fa-cc-paypal" icon_color="#00bcc9″ icon_size="60″]
We also accept payment via PayPal. In the case of large projects, we can work out payment plans,
[/vcex_icon_box]
[vcex_icon_box style="two" heading="WORLDWIDE SERVICE" heading_type="h2″ icon="fa fa-arrows" icon_color="#00bcc9″ icon_size="60″]
Headquartered in the Los Angeles, CA, area but helping clients everywhere with the best possible service.
[/vcex_icon_box]
[vcex_icon_box style="two" heading="" icon="" image="2855″ image_width="166″ image_height="166″ css=".vc_custom_1514071684797{padding-top: 26px !important;}"][/vcex_icon_box]