What the boss does for fun. Buckle up. Yee-haw!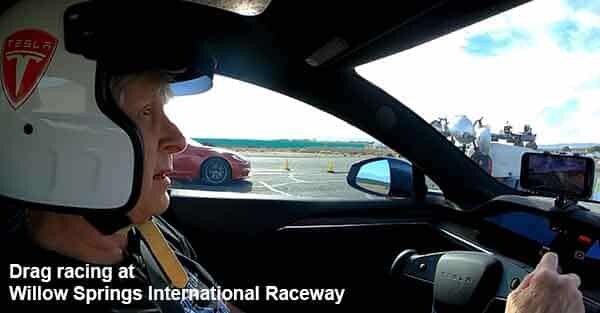 If you're looking for a writing-related post on this page, keep lookin'. This isn't it.
When Tesla released its Model S Plaid in mid-2021, I ordered one. The model name "Plaid" came from the '80s movie Space Balls, as did the prior iteration, Ludicrous. In this silly space comedy, of which Tesla boss Elon Musk is a huge fan, there are a few speed modes for the shape ship. One is Ludicrous Mode, which is the next-to-quickest mode. And Tesla assigned that name to its high-performance Model S and X cars beginning in 2015.
Then, aboard that space ship, if you want to go the ultimate speed, you go beyond Ludicrous to Plaid Mode. It's just a joke from Mel Brooks who co-wrote and directed it. So, when Tesla introduced the Model S Plaid, well, it deserved the nod to ultimate quickness. All-wheel drive, three motors (one in front, two in back), 1,020 combined horsepower and 1,050 combined pound-feet torque. Unmatched acceleration. Zero to 60 in 1.98 seconds. Quarter mile in 9.24 seconds at 152 mph. Sixty to 130 mph in 4.7 seconds. Top end, 200 mph with special brakes and wheels. Nice family sedan with lunatic acceleration. For a while, it was the quickest-acceleration production car on the planet. Currently, there are two that are slightly quicker. One of them cost $2 million, the other $3 million.
Willow Springs International Raceway is nearby and when they have drag racing, I'm present. If you saw Ford v Ferrari, the early race track scenes were shot there. What's it like to launch full-bore in a Plaid? All the blood in your skull slams into the back of your head because initial acceleration is 1.4 Gs. Some get lightheaded as a result. You need to focus on steering because the front end gets light. And that finish line comes at you very quickly. In a quarter mile — that's only 1,320 feet — you're going to finish at about 152 mph. It's unlike anything else on the road.
Because of its enormous power, track officials asked me to stay at the starting line as the other guy takes off, and to leave when I think it would be close at the finish line. It turns out that I have some trouble estimating how quick the other car is. Sometimes I catch the other guy in a couple seconds then throttle back to let them stay ahead. Then punch it at the finish. The word's out. Most drag racers, if given the choice, don't want to run against a Tesla. And those who do are driving all-out race cars, nothing you're likely to drive on the street.
Many racers think of electric cars as cheating, because they easily achieve what internal combustion engine cars can do only with difficulty and at great cost. I see it as a natural progression of technology. This is my third Model S and my favorite. There have been major improvements with each generation.
I'm a member of the Lancaster and Palmdale-area Tesla club of Southern California and help out with administrative duties. If you're curious, check out our little website. Visit the Antelope Valley Tesla Owners.
Y'all stay safe out there. And if you need help with your book, script, speech or lyrics, just click on Contact.