An angry man called me today about an apparent ghostwriting scam.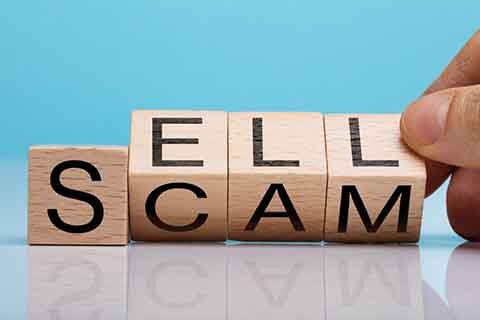 This morning I got a call from an angry man. He said he paid us $7,000, nobody's been answering the phone and he demanded to know where the manuscript was. Wow. My first thought was, what the hell happened? And then he said the books that he was promised did not show up.
Books? We are not publishers. I asked for the name of the business he was trying to reach and the name of the person he'd been dealing with. The first name of the main guy was Frank. I tried to calm "Angry Man" (hereafter called AM) down.
"I do not know that company or who those people are," I said. "But I will try to help you out." He gave me a toll-free number that he said nobody's answering, and four or five names of people he'd been working with. "I'm pretty good at research using search engines, let me see what I can find out."
The company's impressive website showed up easily enough. A few seconds later a chat window opened. The person chatting with me was named Frank. I said I have his client on the phone, that he mistakenly called me, and that he had questions about the manuscript and books Frank was contracted to deliver.
Frank asked for AM's (real) name. "Let me check if we have a client by that name," he said. I waited two minutes. He came back on and said AM was not his client. AM was in my ear as I repeated what Frank typed. He hit the roof. At this point, I was thinking ol' Frank (or whoever he really is) was running a scam.
I did a Google search for that business name, and found a couple Better Business Bureau complaints. And a letter to a scam-tracking website where a woman described her problem with Frank. She had also done research and discovered ol' Frank was doing business under a half-dozen other company names.
Since AM was having trouble reaching Frank and his alleged business, I did a WHOIS search and discovered the registrant was located in Iceland, of all places. The search did result in an overseas phone number and address, but the person responsible had made his name private. Probably for good reason. The WHOIS info also revealed the name servers. I did a search for those and came up with a hosting company in New Jersey.
"You can get the registrant's name but you may have to hire a lawyer and have them make a legal demand. Or get a subpoena from a court," I explained.
AM is not an Internet sophisticate or tech-savvy guy, which is why I did the research to help him out. I put all the info in an email and sent it to him. His next step is probably to find a lawyer, and the odds are he'll spend more on the lawyer than Frank took from him. And if Frank is in Iceland, that means international legal action, which can really get complicated and expensive.
I received his thanks for helping out. I was happy to assist. Lesson: Before you send a pile of money to someone, check 'em out.