A favorite new author: William Least Heat-Moon.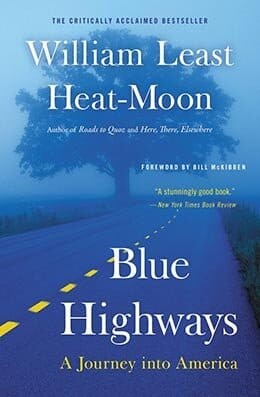 So many great writers, so many I've not heard of. One of those was William Least Heat-Moon. I saw his 1982 book mentioned in an article about small-town America. I immediately ordered it, and it is my current read.
Mr. Heat-Moon decided to make a change in his life. He departed Missouri in a Ford van, somewhat modified so he could live in it. And he hit the road, minor highways linking small towns. In maps way back when, rural highways were indicated in blue, hence the name of the book.
The book is a travelogue, a tale of his on-the-road adventures as he wandered from town to town, including conversations with the local folk. One place he visited, simply because of its name (or lack thereof) was Nameless, TN. Ever heard of it? Me either. This is a fascinating true tale and I'm probably 40% into it at the moment.
The man has uncanny powers of description. Oftentimes I pause to savor his delicious word choices and word combinations that lend great power to images my mind creates. I try to commit his phrases to memory simply because they're so memorable.
Here's a sample from page 154 of the paperback. He's in Deming, New Mexico, at the Manhattan Cafe:
She served a stack of unheated flour tortillas, butter, and a bowl of green , watery fire that would have put a light in the eyes of Quetzalcoatl. Texans can talk, but nowhere is there an American chile hot sauce, green or red, like the New Mexican versions, with no two recipes the same except for the pyrotechnical display they blow off under the nose. New Mexican salsas are mouth-watering, eye-watering, nose-watering; they clean the pipes, ducts, tracts, tubes; and like spider venom, they can turn innards to liquid.
Wow. Clearly, I gotta revisit New Mexico.
A great deal of pleasure awaits as I delve deeper into this book. What I've read so far brings me to a recommendation: Find it. Buy it. Enjoy it.