The last of the three-dot journalists.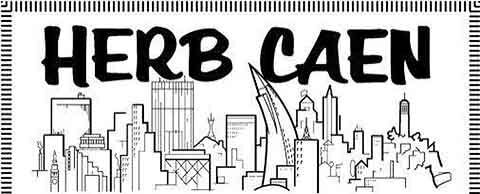 On a whim last night, I did a Google search for a guy named Strange de Jim. Some older folks in the San Francisco Bay Area will know that name. Strange was a tipster with a marvelous sense of humor. "Tipster?" you ask? "Who did he send tips to?" To a legendary daily columnist for the S.F. Chronicle newspaper named Herb Caen.
Now, Herb was a beloved institution in the Bay Area. He went to work on the Chronicle in 1936. Two years later, when his first assignment was over, he pitched his editor on writing a column about the city itself. That guy adored the city. Or as Caen would put it, The City. Hundreds of thousands of Chronicle readers would probably rank Caen as the top reason to subscribe or buy the paper on the street. Many times, Caen pointed out, that for decades, anywhere in the country, mail addresses ending in The City ended up in San Francisco (but no longer, I'm sure).

He had an impact on popular culture. He invented the term "beatnik" and popularized "hippie" during the region's 1967 Summer of Love. He nicknamed nearby Berkeley (known for its left-wing politics) "Berzerkley."
Three-dot journalism
Caen was a practitioner of three-dot journalism. That means short items delivered by tipsters, separated by three periods. Gossip style, now long out of fashion. The guy was so buried in hot tips that he had something like three secretaries to type and answer the phone and fact-check each item before publication.
In 1971, Strange arrived in S.F. and began mailing witticisms to Caen, and he kept at it until 1997 when Caen died. His first missive to the columnist read: "Since I didn't believe in reincarnation in any of my other lives, why should I have to believe in it in this one?" Caen printed it.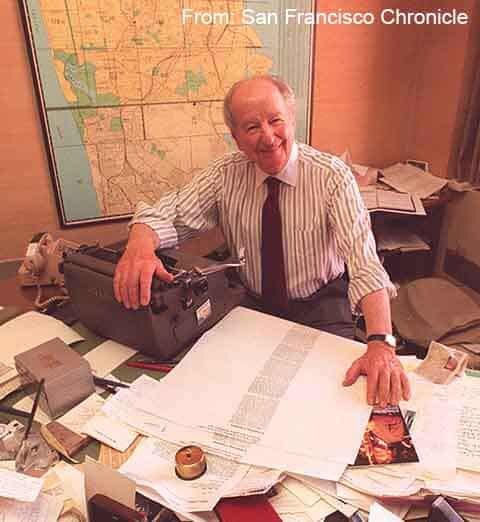 Another, from Strange's website: "No one talks about what's RIGHT with the Muni (the city streetcar line). An elderly woman, with a cane, hauled herself aboard a Market streetcar and started down the aisle. When the driver yelled after her, 'Hey, lady, you didn't pay your fare,' she swung around, shook her cane at him and shouted, 'You men are all alike. All you wanna do is f__k!' The motorman was so taken aback he let it drop. Sliding into a seat, she winked at fellow passenger Strange de Jim. 'Works every time.'"
Reading Caen's column was a must-do thing for nearly everyone. It was prime water-cooler conversation. If you didn't read it, you felt out of touch. Everybody except you knew what was happening in town. Caen would print newsy items about the city and its denizens and you never knew what would turn up. In the 1980s, one bizarre, alleged fashion designer moved in down the hall in a loft building where I worked on a dog magazine I owned. Stay with me here….
The machete maniac and the blue carpet
And an item in the column described an incident on a BART (Bay Area Rapid Transit) train while in the underwater Oakland-S.F. bay tube. Some dude was running for his life as a guy in a dress chased him, screaming, and wielding a machete. And that was it. I wondered what happened when the chase ended, since a train aisle isn't anything like a street where you might get away.
Talking with that dress designer guy later, I found out the machete-wielding maniac was him! My jaw dropped in astonishment. The guy he was chasing had hit on him. Can you imagine? The girl (or whatever) you hit on pulls out a small ax and takes a swing at you with it then chases you as you flee in panic.
Then there was some advice that Caen offered to an executive in a financial district office building. The piece was vague about the building's exact location, but he described the office as having a blue carpet. And then he revealed that this male exec and his female assistant would spend their lunch time on the blue carpet, naked, doing naughty-naughty things to each other. His advice? Close the blinds because…across the street…one and two and three stories up…their trysts were observed by dozens of office workers pressed up against the windows. I just lost it. I couldn't stop laughing. I wondered if any of them brought binoculars or a telescope to work.
I also wondered whether the guy was married. Imagine his wife reading that item. "Hey, wait a minute. Carl's office carpet is blue!" Ouch!
My Christmas gift to the commuters
I made Herb Caen's column once. At the time, I lived in Benicia, some 30 miles northeast of S.F. For some years, each Christmas Day, I would drive across the Benicia-Martinez bridge in the free direction, turn around and go back, and stop at the toll booth. Now, back then, the toll was a buck. I would hand the toll-taker $11 and say, "This is for me and the next 10 cars. Wave them through and say 'Merry Christmas from Mike.'" And then I'd go home. That really surprised those behind. Some would catch up with me, smile, honk and wave.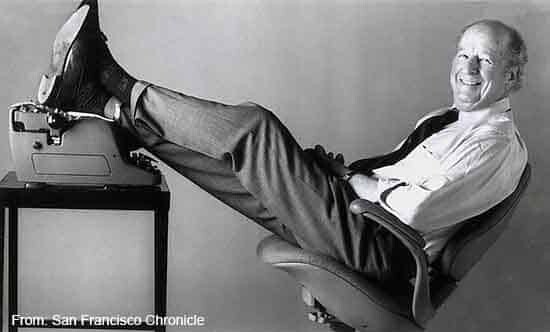 In 1994, I was preparing to move out of state. It was early December, so I mailed a letter to Caen and described what I had been doing for several years, and pointed out that my annual Christmas gift to the commuters would end with the approaching holiday.
Caen printed it. And the phone rang ceaselessly. Everybody I knew in the Bay Area called. One guy from the world of dogs called me up and said — with a note of envy in his voice — and I quote precisely: "How did a dog bum like you make Herb Caen?!" Yay! I was finally famous for 15 minutes.
The overwhelming sense of loss
San Francisco, and the entire Bay Area, was shocked and saddened to learn that Caen had been diagnosed with terminal lung cancer. And so the city put on Herb Caen Day to celebrate the life of this newspaperman who brought joy to so many. Strange de Jim's website says: "San Francisco's Chief of Protocol, Charlotte Mailliard (now Shultz) organized Herb Caen Day for Friday, June 14 (1996). Charlotte called and invited me to ride in the parade down Market Street, sit on the temporary stage in front of the Ferry Building, and then attend the luncheon afterwards. The parade was to start from the Chronicle building at 5th & Mission Streets."
The San Francisco Chronicle described him this way: "Herb Caen was the voice, the conscience, the civic maestro of a San Francisco that was part reality, part a myth of his own creation." There's something more. If it was part myth, that myth was instilled in those who lived in and loved that city.

The city dedicated a 3.2-mile length of bay sidewalk as Herb Caen Way.
When Caen spoke from the podium, he said with great heart and fondness: "I hope I go to Heaven, and when I do, I'm going to do what every San Franciscan does when he gets there. He looks around and says, 'It ain't bad, but it ain't San Francisco.'"
Herb Caen: April 3, 1916 to February 1, 1997 (age 80). Pulitzer Prize winner. The last of the three-dot journalists.
Read hundreds of Strange's witty remarks to Caen here.