A story about the filthiest boxing gym in New York.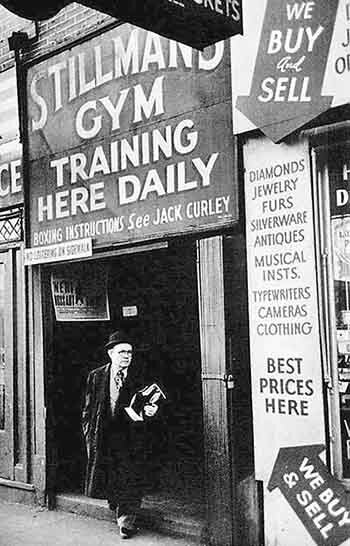 So today I played a black and white movie I recorded from Turner Classic Movies' 31 Days of Oscar. It was Somebody Up There Likes Me, from 1956, starring the legendary Paul Newman as the legendary middleweight boxer Rocky Graziano.
Rocky, like many boxers from the early 20th century, trained at Stillman's Gym, which was run by a guy — Lou Stillman — who never opened the windows, cleaned the glass, sanitized or cleaned anything, including the floors. The joint was notorious for the filth. Lou ran the place from 1919 until 1959 when he sold it and retired.
When the movie finished, I went poking around on the Internet to see what was out there about the gym and Lou. I came across a marvelous article, I would now like to share with you. The article is much longer but this part is about a clumsy, thrashing boxer and it had me laughing. It can be found on the website called Mr. Beller's Neighborhood. Here ya go….
Stillman's Gym: The Center of the Boxing Universe
By- Joe Rein
I'm convinced the single event that expedited Stillman to sell the gym — more than the economics — was Tommy "Hurricane" Jackson.
When I thought I'd seen every eccentric, bizarre character imaginable, Jackson defied description. It wasn't that he went out of his way to do all kinds of antics, like Lou Jenkins on his motorcycle, or Mickey Walker and Fritzie Zivic barhopping; Jackson defined ADD 40 years before the malady existed.
Jackson puzzled everybody in the gym from the first moment he came in in the early '50s. He was a 6-3, lean heavyweight from Far Rockaway, New York. And the constant bemused look on his face, and the sort of maniacal light in his eyes said there was nobody home.
He was a curiosity in a professional fight gym housing world champions. He could best be described in the ring as: disjointed sticks being thrashed about furiously.
Not only wasn't he equipped to be a fighter, it was questionable if he could get all his limbs to obey him. His imitation of prizefighting and training had everybody shaking their heads, and Stillman muttering aloud: "Disgraceful…"
When he sparred — if you could call it that — Jackson just out-annoyed people. And yet he kept winning fights, until he had graduated to main events, and, unbelievably, got ranked in the top 10.
He wasn't courageous in the way you would normally understand it, where a fighter would take tremendous punishment, and then summon something from within to storm back. Jackson couldn't get out of the way of punches and seemed never to feel pain; he just soaked it up and kept flailing and swatting. He was like some terrible toy you couldn't shut off no matter how many times you slammed it against the wall.
Watching Jackson in boxing gloves was like listening to Roseanne Barr sing The Star Spangled Banner.
Jackson's only response to any question was: "Wanna shoot rats?"