Rates for ghost writing, speech writing
& screen writing services.
Help is a phone call away! Call Ghostwriters Central toll-free at 888-743-9939 10am to 6pm Pacific Time. Or you can send us a text message anytime at 747-333-8660, we will reply right away. Whether you need a book manuscript, screenplay, rap lyrics or wedding vows, you can be assured of expert, prompt, conscientious and affordable service.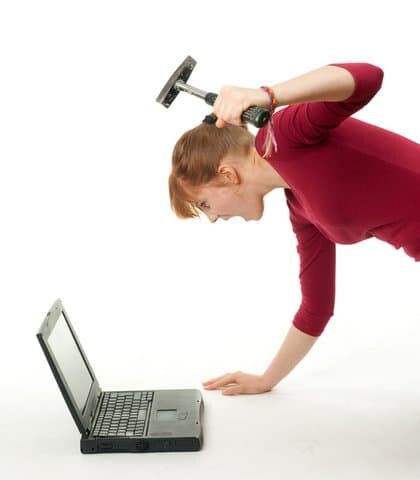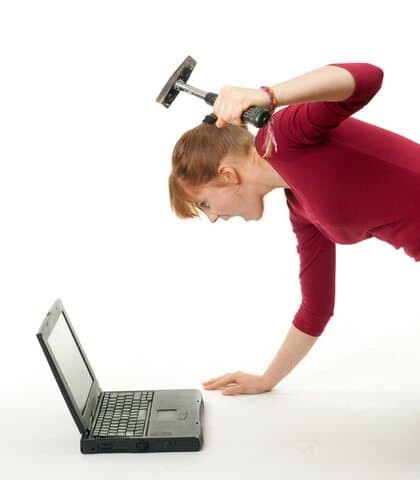 Relax! There's no need to whack your laptop with a hammer; we're not that expensive! The rates our versatile ghost writers will charge for ghost writing, screen writing, speech writing and editing appear below.
Ghost Writers Central is consistently amazed by the variety and uniqueness of its customers' ideas. That's why we work with ghostwriters capable of ghostwriting and editing books, screenplays, and speeches on any topic under the sun. Bring us fiction. Bring us nonfiction. Any topic, any genre, any tone, any theme — from the newest mainstream page-turner to the latest experimental journey. Our ghost writers have the capacity to tap your vision and bring it to life. Call us … write to us…surprise us.
And we do get surprised. One client needed a 300-page business book written in two weeks. The writer they normally call on for such tasks laughed when asked to do the project, so they gave it to us instead. We delivered the finished manuscript on time and on budget.
The difficult we do daily. The impossible takes two weeks.

Our speeches have been delivered before the United Nations and before business groups. Our wedding toasts and marriage vows are the stuff of legend. Our words have thrilled university students and their families on graduation day.
Our screenplays have won prizes at film festivals. Celebrities have called on us to write autobiographical movie scripts. We craft screenplays that are designed to knock readers' socks off, some of which have been ushered into production. We often are asked to perform script doctoring work.
We will bring our considerable expertise to bear on your project and charge you a reasonable price for the work.
PRICING:
Ghost writing for documents, newsletters, website content and other short-form projects: From* $50 per double-spaced page.
Ghost writing for books destined for publishing on paper, ebooks and memoirs: From* $60 per double-spaced manuscript page. If your book manuscript will be 250 pages, the cost will be $15,000.

Rewriting an existing manuscript: From* $60 per double-spaced page.
Screen writing: From* $60 per script page. If your screenplay will be 120 pages (approximately two hours screen time), the cost will be $7,200.

Script doctoring/rewriting: From* $60 per minute or screenplay page on which we actually work. Untouched pages are not billed.
Theatrical stage play writing/rewriting: Same rate as for screen writing.
Speech writing: From* $50 per minute or double-spaced page.
Poetry: Limerick or haiku, $50. Longer poem, rhymed or free verse, $150. Structured poem (sonnet, etc.), $200. Chapbook, from $400. For other needs, inquire.

Song lyrics: From $300 and you own the rights.
Blog writing rates are on this page. Four blogs per month from $500. Please visit the Blog page for more info.

Editing: From* $10 per double-spaced page.
Movie treatment and book proposal writing: Charged hourly at $40 per hour.
Public relations and crisis communications: Request a price quote.
NOTE: *These are our base prices, however additional fees will apply in the event the client desires high-priority project completion, editing outside the usual parameters, or developmental assistance. Rates for promotional materials such as cover letters, treatments, synopses, etc. are configured on an hourly basis.
Turnaround time: Ten to 30 days on most projects, three to six months on book and screenplay projects. RAPID TURNAROUND IS AVAILABLE BUT THE PRICE WILL DOUBLE. Public relations and/or crisis communications consulting is provided on demand.

Payment plans: For large projects, we can arrange for the fee to be spread over several payments. The first payment is due when we begin work; the final payment is due when we finish. The number of payments, the amount of each payment and the timing of pay points are details to be negotiated and affirmed in the contract for writing services.
Research: Clients must provide detailed notes, a detailed outline, or an audio recording. We can aid in the creation of these materials.

Editorial review: Client may request changes on the spelling, grammar, word choice, and punctuation of the completed work.