Writing scripts & making movies.
We can write your screenplay and we can even make your movie! You can call a lot of ghostwriters without finding anyone else who can give you a turnkey solution to your movie idea. Call Ghostwriters Central toll-free at 888-743-9939 10am to 6pm Pacific Time. Or send us a text message anytime at 747-333-8660, we will answer right away. Let's get your movie project done.
We are writers. And we are filmmakers, too.
Ages ago, chief writer Eric Shapiro broke the family camcorder so many times while writing and directing short films that his father had to contemplate getting a second mortgage on their home.
After college, Eric became a book editor, but kept producing, directing, and writing feature films. Michael, who is much older, was the editor/publisher of a monthly magazine for 22 years but also wrote, cast, produced, and directed many feature-length video productions. 
There's been a new development. We're blazing a new trail. First, a brief bit of history:
The old movie studio system has undergone a massive shift. They're no longer putting out much in the way of emotional or personal content (nevermind powerful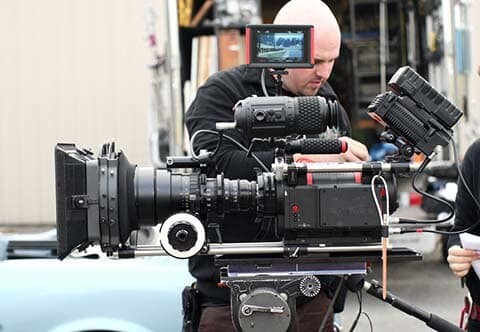 content). They've gone risk-free to suit their corporate bottom lines, pumping out comic book adaptations and other "theme park"-type event movies. As a result, personal cinema has become the province of independent production companies and distributors. And those who write original screenplays have fallen out of speaking terms with the studios. For, the studios figured, why go original when you can simply cook up more of the same?
Who are some of recent cinematic history's more original voices? A few examples: Joel and Ethan Coen, Spike Lee, Quentin Tarantino, Wes Anderson, James Cameron, George Lucas, Damien Chazelle, Alfonso Cuarón, Cameron Crowe and Woody Allen. All of them write their screenplays and direct. We aren't involved with any of those brilliant men but we have endless respect for their creativity and production ability.
Making a truly original movie or television show — or even TV commercial — involves fine and emotional writing, a clear vision of the final product, and the physical and monetary resources needed to bring it all to life. And who better to bring it all to life than seasoned writers with ample production experience?
The new trail: Not only can we write your movie or short film or TV script or commercial, we can also produce and direct it. We are calling our new enterprise "Raging Reel Films." This is our way of pushing back against a movie marketplace glutted with unoriginal and uninspired content. Making a film or TV show or commercial can be very expensive, and it's a highly complex undertaking. But if you have access to resources to fund your project, as well as serious content in mind, do not hesitate to contact us. We will be selective with our projects, as quality is king around here, but if you're serious about making your movie happen, then we will treat you with the utmost respect and we will perform with the utmost professionalism.
No, you needn't have had us write your script in order to hire us to produce it.
 So come on in and join us for the writer-as-filmmaker revolution. Just go to Raging Reel Films production page.
We look forward to talking with you soon!