Perfectly-tailored speechwriting
services by speechwriters:
Graduation speeches ● Motivational speeches ● Keynotes ● Commencement speeches ● Roasts ● Retirement speeches ● Corporate presentations, CEO speeches ● Persuasive speeches ● Eulogies!
The next applause you hear will be for you — with our help. Walk up to that microphone with confidence. People expect you to be brilliant; we will show them that you are. Get the speechwriting services you need from pro speechwriters. Call Ghostwriters Central toll-free at 888-743-9939 10am to 6pm Pacific Time. Or send us a text message at 747-333-8660, we will reply right away. Ask about our rush rates for immediate turnaround.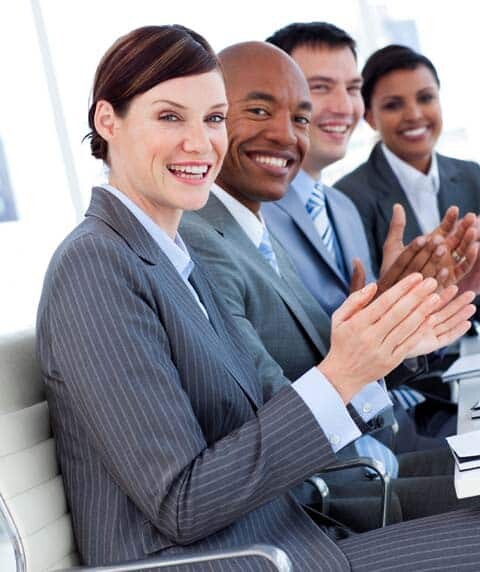 SPEECHWRITING BY PROFESSIONAL SPEECHWRITERS
WHAT KIND OF SPEECHES DO YOU OFFER?
If there's a kind of speech that can be delivered anywhere upon this Earth — or even in oxygenated conditions in outer space! — then Ghostwriters Central can be depended upon to ghostwrite it. Graduation speeches. Motivational speeches. Retirement speeches. Even eulogies. Roasts. CEO speeches. We draw the line at hate speech, but (knock on wood) nobody's requested it (yet).
We were even commissioned to write a United Nations address!
WHAT MAKES A GOOD SPEECH?
First off, every paragraph should stand on its own, like something of a linguistic flash card. We always put spaces between the paragraphs in the speeches we ghostwrite, so each one functions as its own unit of information, emotion, and impact.
Secondly, and more importantly, a good speech focuses on Anything But The Speech-maker. It's not about YOU. It's about the subject, or the audience, or some grand, overwhelmingly inspiring theme. Even if you're the guest of honor, the fastest path to seeming like an arrogant blowhard is standing up there and talking only about yourself. Save that routine for your children's bedtime!
WHAT MAKES A BAD SPEECH?
Gee, we kind of jumped the gun on this answer, didn't we? No worries: It bears repeating. If it don't got no linguistic structure and it ain't focused beyond the speech-maker, then that thing ain't worth the paper it's printed on.
HOW DOES GHOSTWRITERS CENTRAL KNOW WHEN THEY'VE KNOCKED A SPEECHWRITING PROJECT OUT OF THE PARK?
Usually, we hear from the client some days after the speech, and he or she tells us that not only did it all turn out beautifully, but the band leader or receptionist or [insert other neutral professional who happened to be present] approached the client and said, "You know, honestly, that was the best speech I've ever heard — and I've heard a lot of 'em!"
That's happened quite a few times around here. Oh, and we also recently helped a political candidate win his race…but now we're just being braggers.
HOW MUCH DO SPEECHES COST?
Speechwriting services start at $50 per double-spaced page (and, in general, one double-spaced page equals one minute of speaking time, with the speaker's delivery speed being the biggest variable).
CLIENT RESPONSES UPON PROJECT COMPLETION:
"Hi Eric. Now that the dust has settled, I must say thanks again. Obviously, I would have no idea of what's the norm for 'feedback' however I have been overwhelmed with the amount of comments on my speech Friday night. During the speech, I saw many patting their eyes because of tears (not my intention), and immediately following so many came to me to remark on how they liked my speech. And as of today, I am still receiving great feedback. Who would think that my dress would get second place over the speech?" –Linda T.
"The speech was a REAL HIT! Everyone said that I did a great job and that the words were really meaningful and got the message across really well…thanks thanks thanks! Thanks for your services and speed and great price!" –Myron K.