Script doctor services: We will analyze
& cure your movie or TV screenplay's ills.
Whoops! Your screenplay is broken. Or bloated. Or bleeding. Or incoherent. Or was ripped and thrown against a wall by a PO'd producer. Send it to us for expert script doctoring services. Just think of us as word and story surgeons — it'll be looking fine and you won't find scars anywhere! Call Ghostwriters Central toll-free at 888-743-9939 10am to 6pm Pacific Time. Or send us a text message at 747-333-8660, we will reply right away. You can be assured of expert, prompt, conscientious and affordable service.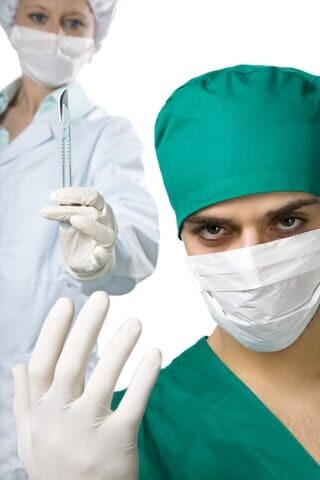 SCRIPT DOCTORS: OUR SCREENPLAY DOCTORS WILL FIX YOUR MOVIE SCRIPT
WHAT IS A SCRIPT DOCTOR?
A script doctor is a deep, skilled, on-the-case editor. Only rather than just edit, a script doctor rewrites. Goes in deep. Whips that story into shape. Gets that dialogue singin' and hummin' along.
WHO NEEDS A SCRIPT DOCTOR?
Are you an indie filmmaker or a screenwriter whose script is on the floor, wailing in agony due to a lack of cohesive narrative structure and characters who talk and act as though they've recently been lobotomized? Then for heaven's sake, you've got to call a script doctor!
WHAT DOES A GOOD SCRIPT DOCTOR DO?
Receives it limping; sends it back strutting.
WHAT DOES A BAD SCRIPT DOCTOR DO?
Drop his or her surgical instruments into the script's body and then sew it up while thinking about what kind of sandwich to eat for lunch. In other words: Subject a hurting script to even more pain.
WHAT IF PEOPLE SAY A SCRIPT IS BORING? CAN YOU TONE UP THE LANGUAGE AND MAKE IT EXCITING?
Probably not. They're saying it's boring because of something that's going on with the structure or the characters. Rewiring the words so they're tight and elegant will only make it polished and boring. Our script doctors know exactly when to go in deeper.

HOW MUCH DOES SCRIPT DOCTORING COST?
Script doctoring is rated just the same as rewriting (which is precisely what it is, just in screenplay form): Starting at $30 per screenplay page.
CLIENT COMMENT AFTER PROJECT COMPLETION:
"Can you post this thank you on your website? I have achieved amazing success  with your professional help. I am a total amateur, now a winning one. Ghostwriters Central has done it for me: Ten film festival screenwriting awards and finalist positions, three writing competition wins, beautiful reviews and publicity for my screenplay in three countries. Quick, reasonable and winning, to say the least. This is my first screenplay and your guy wrote it for me so well I'm still getting CONGRATULATIONS emails. Your gift keeps on giving!  I've only been submitting my script for four months, a total newbie. It's unbelievable, incredible! Thank you for making 2013 my year for unexpected major success. I love you guys!" –J.B.
Click for our screenwriting rates.