Introducing
Raging Reel Films,
our production unit.
Over the years, we at Ghostwriters Central have encountered numerous screenplay ghostwriting clients who take the bull by the horns, going out and actually producing the screenplays we've worked on for them. But we've always been aware that not every client has the wherewithal to go into film production. It costs money. It's complex. It requires experience and expertise, lest one wish to risk not getting it right.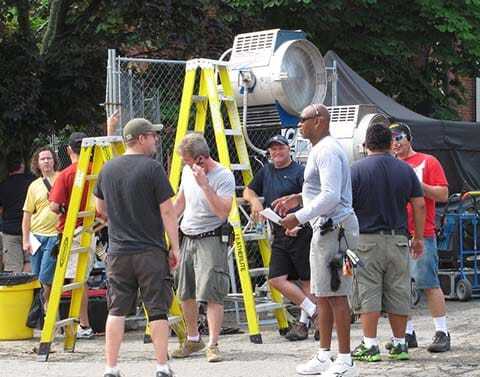 Here's where Ghostwriters Central can be of additional value to you, by way of our new venture, Raging Reel Films:
If you have the funds to back a short film, feature film, TV pilot, TV series, or other audio-visual project, we can offer the ability to actually get it made at a high-quality level. We have the filmmaking experience and expertise you need.
Note that this particular service is strictly suited for clients who have the financial ability to back the project. At a minimum, for a professional movie production, that means you should have $100,000 available. Preferably, we'll be working with higher figures.
In addition, although Ghostwriters Central has long innovated in the field of ghostwriting, we're not "ghost filmmakers" (which, to our knowledge, do not exist!). Our filmmaking work will be credited. And since we don't wish to overload our production slate, not all the filmmaking inquiries we receive will be engaged.
If we like your project and are confident we can get it done right, we will get back to you and start the process.

A turnkey experience
These days, independent film production revolves around organizing the resources. What we can provide is a turnkey experience. Your hand us the assignment and funding and we take responsibility. We will arrange for:
Equipment

Insurance

Crew

Locations

Transportation

Actor and extras casting

Film permitting

Song rights and music scoring

A qualified director

A capable producer

A talented cinematographer

Editing and


Post-production
Quality organization and a skilled crew can keep budgets under control. Time is money and one day wasted in a movie shoot can cost tens of thousands of dollars. Movies often take a few months to shoot but excellent productions can often be completed in a few weeks. For example, principal photography for "The Founder," the recent story about the creation of the McDonald's fast food empire, was completed in 22 days. That's quick. And it's far less expensive than a shoot lasting, say, eight weeks.
Filmmaking is an ultra-competitive business. The best way to compete against the many filmmakers out there hustling for recognition is to deliver exceptional work. It can't just be good; it has to be stunning.
What to do next
If you're ready to stun with the motion picture you have in mind, and you have existing monetary resources to put the project into motion, give us a call. We do have the necessary resources available.

If you send us your premise, outline, treatment, synopsis, screenplay draft, or finished screenplay, we can arrive at a reasonable budget estimate before proceeding. Of course, we are willing to sign a non-disclosure agreement.